Phone: 708-924-9277



Helicopter Tours of Chicago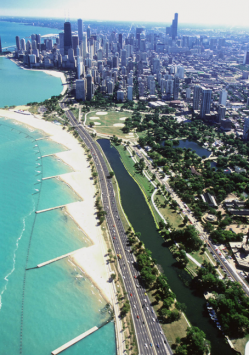 "Helicopter tours of Chicago make a great gift and are a romantic environment for any special occasion.

Don't forget to bring your camera!"
Chicago is one of the most beautiful cities in the world with some of the most significant architecture of any major city.

The best way to experience the beauty of Chicago is with a helicopter tour from Rotorzen Helicopters.
As soon as we lift off from Chicago Midway airport, you will see some of the tallest buildings in the world.

The Willis tower (known formerly as the Sears Tower), Trump Tower, and John Hancock building stand out from one of the most beautiful skylines of any major city in the world.

Our tours provide scenic panoramic views of downtown Chicago, Navy Pier, Millennium Park, Buckingham fountain, and the Shedd Aquarium.

Our pilots are experienced and enjoy their work.

They are also highly knowledgeable about Chicago and the significant attractions the city has to offer.
Helicopter tours are fun.

Helicopters have the ability to stop in midair and hover. This gives you time to look, take pictures, and enjoy the view.

Helicopters also have large windows which give the passengers unobstructed viewing.
In terms of safety, commercial helicopter operations have been one of the safest segments in general aviation based on a compilation of statistics from the 2009 Nall Air Safety Report.

Rotorzen Helicopters is committed to providing our customers with a comfortable and enjoyable experience.
Tours cost $199 per person and last approximately 30 minutes.

This price includes all taxes and fees.

Please arrive at least 30 minutes before your flight for check-in and a safety briefing.

Our flights will depart Midway Airport from Odyssey Aviation.

Passengers must bring a valid drivers license, photo identification, or passport.

Maximum of three passengers per flight.

See our policies page for more details or call us for more information.
To purchase your ticket, simply click on the link near the bottom of the page or call us at 708-924-9277.

After you purchase your tour, call to schedule your tour.

We accept Visa, MasterCard, American Express, and Discover.

All tickets are valid for one year.

Helicopter tours of Chicago make a great gift and are a romantic environment for any special occasion.

Don't forget to bring your camera!
To schedule a tour follow these easy steps:

1. Buy a tour voucher online or over the phone. Vouchers are valid for one year from the date of purchase and are fully transferable to another person. Vouchers are sent via email or US mail.

2. Call to schedule your tour. Tour times are granted on a first come, first serve basis. When you are ready to fly, simply call to schedule your tour or to check for availability. Call 708-924-9277

3. Vouchers are redeemed at the time of flight. See our policies page for further details.


4. All of our flights depart from Odyssey Aviation located at Midway Airport. Odyssey Aviation is located at 5320 W. 63rd street. All of our clients are entitled to free parking at this location. For more information call us or go to Odyssey's website: http://www.odysseyfsp.com/chicago.html

New: We also offer helicopter charter services. Charter services are provided by Lakeshore Charters, LLC which operates under FAA certificate number 3LKA408M as an on demand charter service as described in 14 CFR Part 135. Call 708-924-9277 for details and information.

Gift Certificates Available for Chicago 30 Minute Tour
All tickets are valid for one year and are fully transferable.